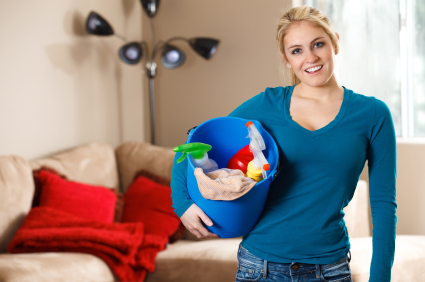 With the holidays fast approaching what are you doing to get ready? If shopping isn't stressful enough, maybe getting your home and office clean and orderly will be one less thing to worry about.  Just think how much calmer you will feel when your house is finally in order and ready to take on the holiday hustle and bustle! 
With relatives coming to visit and possibly staying during the holidays, there is much to do in preparation for company during the holiday season. Since people have guests dropping by unexpectedly, it is a good idea to try and keep on top of the daily picking up of things around the house. One way is to grab a laundry basket and go from room to room, picking up what doesn't belong there and putting it back where it does belong.  At this time of year, giving yourself an extra 15 minutes in the morning to go around the house or office and tidy up, will prevent some rushing and frustration from occurring later on during the day.
If unexpected company calls, make certain the guest bathroom is freshened up along with your kitchen since this is where your company will sit and congregate.  Try to have some goodies and snacks on hand throughout the holidays so you have treats to serve your company should they drop in by surprise.
Remember to get everyone involved in the cleaning up process.  Family and office mates can go through their spaces and help tidy up on a daily basis as well. This will ensure that chores and tasks are kept up with so there is less to clean up later and more free time to enjoy your holiday!