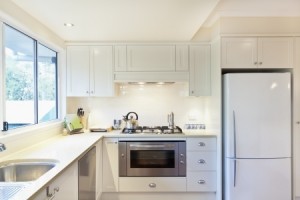 Did you know the entire month of October is National Kitchen and Bath Month? This essentially means that October is traditionally known for being the most popular month for homeowners to spruce up and remodel their homes. Kitchen and Bath remodeling are two of the greatest investments you can make for your home. This not only adds value to your home should you ever decide to sell but it will also make your living space more comfortable and enjoyable. Your morning routine consists of heading to your kitchen to make your breakfast and possibly lunches for the kids. Then you and your family head to the bath to get showered and dressed. These two rooms get the most use and require a neat, tidy organized area so you and your family can move about freely without too much upheaval!
Three points to consider:
Since many homeowners are making the decision to "stay put" and remodel these days, it is important to take into account the design of your new kitchen and bath. You will want to create spaces that are comfortable and spacious, also including some luxuries that will enhance your life as well!
If you have made the decision to stay in your home and spruce things up a little, you can make big changes or small changes depending on your budget. Either way, tackling one room at a time will help clean up and organize your living space and make it feel "brand new".
Staying in the home where you raised your family and aging in place, is becoming more common for people who do not want to go to the trouble and expense to move. For them it makes more sense to stay in their environment and make some remodel changes while keeping cherished memories there.
Whether you decide to do a complete remodel of your rooms or go slower tackling just one room, Home Services Enterprise can help with any organizing and cleaning services that you need during your remodel. Please visit our website to schedule a cleaning: www.homeservicesenterprise.com