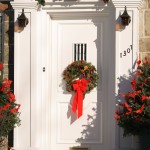 With Thanksgiving just a couple weeks away, you want to make certain your home will be ready for the fast approaching holiday season and the visitors that come along with it!  The best way to do this is to start early by organizing your ideas with a simple checklist for each room in your home and what needs to be done.
You will feel more relaxed and it will also help your visitors feel at home. This will help you to enjoy the holidays even more, when you feel organized and ready for the busy season ahead.
A few tips for getting your home ready:
Spruce up your entryway – make your home look inviting to your family and any visitors arriving by hanging a festive wreath on your front door and tidy up your front entrance. Get a new doormat and place some aromatic candles and flowers inside your entry to create a warm atmosphere for your guests.
Organize your bedrooms & baths – since these are the rooms your guests will be using the most, be certain to de-clutter and make room in the closets for your guests. Arranging new towels and linens for bed and bath will freshen up each room.
Clean & stock your kitchen – you will be busy preparing and serving food to your guests, so having a well-stocked kitchen full of food and drinks to serve will help you feel prepared. Getting your grocery shopping done early, stocking the pantry with holiday foods and organizing your kitchen with all the essential serving platters, dinnerware and glassware will make serving your guests fun and relaxing.
Serving your guests is part of the holiday fun and having your home clean and organized, you will feel ready to receive your guests and it will make your time more enjoyable and relaxing too!
Call Home Services Enterprise today for our organizing and cleaning services: 301-774-0270 or visit our website at www.homeservicesenterprise.com.