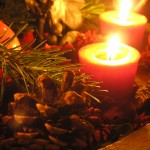 The holidays are fast approaching this month and will arrive before you know it, whether you are ready or not! It is normal when this time of year hits, for most people to feel overwhelmed with much to do and little time to do it. With shopping, decorating, cooking, baking and visiting family and friends, this leaves little time left for organizing and cleaning your home.
The first step may be to admit to yourself that you just can't do it all and may need to ask for help from family members to "pitch in" and help share some of the responsibilities around the house.
Once you have accepted the fact that you are only human, you can start to feel more relaxed and get done what you can. The best way around this dilemma is to prioritize the things you want to accomplish this time of year.
Some helpful tips:
Budget your time & money – budgeting your time is just as important as budgeting your money. Decide how to prioritize your time with family and friends and plan accordingly so you are not stretched too thin. Spending quality time with family and friends will make lasting memories.
Quality not quantity – if shopping becomes too stressful, consider making your own. Everyone appreciates a hand-made gift such as ornaments, wreaths and candles etc. Or another option is to buy less this year by spending more on one item of quality versus many gifts. It will cut back on your buying and spending, which may help with your stress level!
Getting yourself organized – getting your house in order with organizing and cleaning the rooms you will be using. Tackle the clutter in your kitchen to make room for cooking and baking. Freshen up bed and bath for visiting guests and clean out junk drawers in preparation for wrapping materials. You will feel more prepared and less stressed if your home is ready.
Schedule a cleaning today with Home Services Enterprise to organize and freshen up your house to ensure a less stress-more fun holiday!