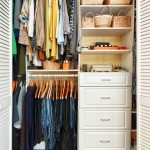 Organizing your closet is a good time to put your decision making skills to the test. In order to start this difficult job, you have to make up your mind that you are going to rid yourself of the clutter. Getting rid of personal items is not for the weak at heart.
Why is it so important to make good decisions? You have to be brutally honest about what to keep and what to toss.  Be honest with yourself if you will wear that piece of clothing or those shoes ever again. If the answer is no, it is best to give them away to charity.
Three good questions to help you:
Do you wear it now or have you in the past two years?
Do you love it?
Does it reflect your own personal style?
If the answer to 2 or more of these questions is no, it is wise to get rid of it. If the answer is yes to all three, then a must to keep!
To start the task of organizing, start with a large clear space and remove everything, all clothing and accessories. Give your closet a good cleaning and wipe down all shelving. Start by packing up your toss pile and move them out of the way.
Have a full length mirror handy so you can "try on" any clothing you are unsure about. This will help you decide what you are keeping and what goes back in the closet. This is an important step, making sure the clothing fits well enough to wear it later.
A good rule of thumb is to organize and sort your clothing by colors and seasons. This will make it easier to find what you are looking for. An organized closet will help establish order in your life and cut down on stress.
Call Home Services Enterprise today for all your cleaning and organizing needs: 301-674-9564