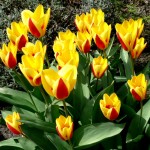 Spring has arrived and so has the ritual of spring cleaning.  Spring cleaning originated back when wood burning stoves and kerosene lamps were in use, leaving a buildup of soot and grime throughout the home. It became a ritual with the arrival of spring to remove the remains of winter. Today, we are able to open our windows and let the fresh air in!
Most of us tend to put off spring cleaning as long as possible. We may become overwhelmed with such a large project and simply don't have the free time to spend days or weeks on spring cleaning.
Here is a 10-point checklist to get you started:  
Try to set aside 1-2 weeks- at the start of the week, start at one end of your home then moving to the garage area and outside for the remainder of time.
Wash windows inside and out – vacuum drapes and window treatments or send out for professional cleaning if too soiled.
Steam clean carpets- you can try this yourself by renting a steam carpet cleaner, unless the carpets are too soiled which may need professional cleaning.
Wash all flooring, baseboards, molding and ceilings.
Dust all surfaces with a furniture cleaner or dust microfiber cloths, which help cut down on allergens becoming airborne.
Make a list of odd jobs to be done– these may include paint touch-ups, small repairs or anything that needs extra attention.
Collect clutter around the home– using a laundry basket, go around collecting anything that is cluttering up your rooms. You can sort through them later and put them back in the right spot.
Clear out the basement – go through your basement and make a pile to donate and a pile to throw out. This will help with de-cluttering your storage areas.
Hold a garage sale – after cleaning out your house put aside items you no longer have use for and can sell later at a garage sale.
Clean up the yard – trim bushes and trees, spreading mulch and freshen up the gardens.
Home Services Enterprise is available for all your spring cleaning needs. Call today for an appointment 301-674-9564.