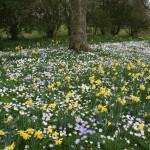 April showers bring May flowers but in addition to the lovely spring flowers it also brings pollen and other allergens into our homes. If you and your family members suffer from seasonal allergies related to tree and flower pollens there are a few things you can do to help reduce the allergens in your home.
Spring cleaning is an annual ritual that began many years ago with the intention of clearing out the remains of winter's soot and grime. For people who suffer from allergies or asthma, a thorough spring cleaning is essential in keeping the air healthy and clean in our living environment.
Removing allergens today is a much easier job with our many cleaning products available such as disposable wipes and mops or hiring a professional cleaning service to freshen up our homes for spring.
Good spring cleaning tips:
Carpets & Floors – always vacuum thoroughly and often. Mop flooring if not daily then at least once a week.
Curtains & throw rugs– wash if possible or vacuum thoroughly. Curtains and rugs are dust traps and should be cleaned daily or weekly.
Windows – wash inside and out and also wash screens and window sills.
Bed linens & towels – includes all bedding, pillow and towels. Wash weekly to remove build-up of dust and allergens. Encase in dust-mite proof covers to eliminate the threat of dust mites inside the bedding.
Nooks & crannies – the out of sight areas in your home that are hard to reach and collect hidden dust and dirt. Also, be certain to dust and spray down the knick-knacks in your home which can also hide dust build up.
A clean dust free environment will help reduce the allergens in your home and keep your family safe and healthy.
Call Home Services Enterprise today for spring cleaning or daily and weekly cleanings: 301-674-9564.