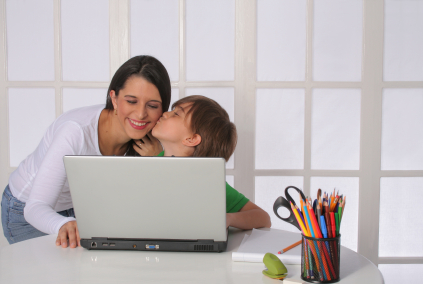 Everyone can always benefit from a clean, efficient, and organized work space – whether you're a student trying to study for a test, or a work-at-home mom trying to run a business from home. As we head into spring, you may find that the clutter from the winter has begun to take over. From back-to-school shopping last September to the Holidays and beyond, now is a great time to clear out what's no longer needed.
Our work spaces should always be a high priority when it comes to staying organized. Studies have shown that keeping an organized desk helps to boost productivity. When you start with a clear work surface, your mind opens up to the project at hand more easily, without being distracted by any other unfinished projects that may be lying around your office.
Where should you begin? The biggest trick is to not bite off more than you can chew. Start with a small area; even as small as one desk drawer. If that goes well and you have time to move on, tackle the next drawer or perhaps a shelf. You can always take on more if you finish a small section. Sticking with small sections allows you to reach completion on small projects in a short period of time, whereas trying to do a whole room at once can feel overwhelming.
If you simply do not have the time to go through and clean out, organize, and de-clutter your home or office, you can always hire an expert to come in and take care of that for you. Cleaning services and organizing experts are available to come in and assist you or even take care of the whole job for you.
We all tend to accumulate things throughout the year, and especially during the winter. The key is, are you getting rid of what's no longer needed, or just pushing it into a corner of your office? Accumulating too many things leads to disorganization and chaos, which can have a negative effect on productivity. Get off to a good start this spring with a fresh, clean, and organized work area. You will be happier and healthier – and so will your family!