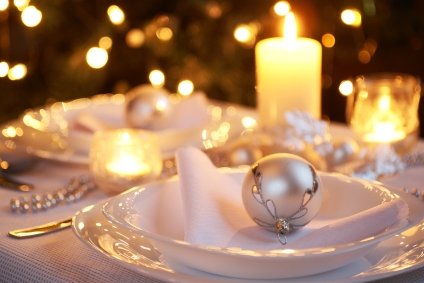 The moment the Thanksgiving dishes are done, the season of gift-giving takes off at a mad dash—Christmas, Hanukkah, Kwanzaa … the holy trinity of December holidays—and for those of us doing the holiday hosting, it can be anything but a time of joyous celebration.
Why not return some of the fun and festivity to the month with this five-step plan that will ease your load and alleviate your stress? By the time everyone convenes around your holiday table, you'll be sitting pretty in a home that's been prepped to perfection!
ORGANIZE: Before you do anything to commence December's frenzy, lay the foundation now with some basic organizational tasks to pave the way for a smoother ride later. Empty the pantry, fridge, and freezer of expired, unused, and unneeded items to make room for what's to come. Get the boxes down from the attic and sort through what you'll be using this year and what you won't so everything will be at hand when you're ready for it. Go through each and every room of your home where company will be visiting or staying and declutter what's cluttered, stash those seasonal items that are just taking up room for the winter, note what's needed there to accommodate your guests. Now's a great time to donate whatever you don't need anymore to those who are less fortunate.
PLAN: Now it's time to make lists. Pick recipes now and list out all the ingredients you'll need to make them. Gather gift lists now, and next to each chosen present, jot down the store you'll need to visit to procure it. Mark on the calendar what days are set aside for what tasks so you can realistically and comfortably manage them all, like laundering the holiday linens, stocking the bathrooms with guest soaps and holiday towels, mailing the holiday cards. Create a timeline for your baking and cooking days so you'll allow yourself adequate time in the kitchen. Check your stock of wrapping paper, ribbons, and bows now and designate a gift-wrapping station somewhere convenient in your home.
CLEAN: Once you know what needs doing, making, and buying, create a clean slate to work from. Polish the furniture and the silver. Scour the bathrooms. Make sure all the pots and pans and serving dishes you'll be using are in good shape for the big day. Dust and vacuum the guest rooms and make up the beds. Rake the yard, wipe the windows, mop the floors.
SHOP: Gather all those lists from step 2 and order them efficiently and effectively. Instead of going uptown one day for Johnny's hockey stick and the next day for the butcher shop, combine that into one trip. Make two runs to the mall rather than ten by grouping all the stores you can hit in one fell swoop, preferably during off-hours to avoid long lines and wait times. Map out the quickest and most streamlined route for all your stops so you don't have to circle back in the afternoon to where you just were in the morning.
DECORATE: Finally, the fun part! Although you likely took care of the outdoor decorations on Black Friday, it's time now to set the mood and bask in the beauty of the season indoors. Create an inviting entryway with wreaths, boughs of holly, and twinkle lights. Warm up your living room with stacked wood at the ready by the fireplace. Roll out colorful runners, placemats, and tablecloths. Hang stockings and trim the tree. Simmer cider on the stove. Load a basket with spiced pinecones, set evergreen-scented candles on counters, and plug in aromatic air fresheners. And don't forget to fill the candy dishes on side tables for that extra touch of sweetness!
Want to make the season of giving even more special? Gift yourself by calling on Home Services Enterprise to take care of the organizing and cleaning for you. Make the season merrier by booking an appointment today: 301-674-9564 or www.homeservicesenterprise.com