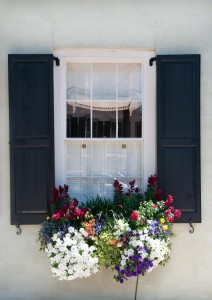 Home is where the heart is. But getting a breath of fresh air your home this time of year may not be as effortless as it sounds. Following the colder months of winter, when our doors are fastened tight and our windows are sealed shut, the air quality in our homes can feel stuffy and stagnant, making for a less comfortable (not to mention even a less healthy) living environment for you and your family. Compounding the stagnation of winter are the chemicals we inhale from our carpets, draperies, furniture, paints, fabrics, and other items in our homes that collect dust, dirt, and mildew.
Springtime, though—with its warm, sunny days that beckon us to let the sunshine in and bring the outdoors indoors—is the most opportune season to renew and re-energize the air inside your home. Follow these tips, and you'll breathing easier in no time!
FOUR TIPS TO FRESHEN YOUR HOME:
Clean your vents: Dusting and cleaning out your vents will eliminate the dirt and debris that accumulates inside them and is then distributed in the air that circulates around your home. Cleaner vents will also reduce any allergy and asthma issues your family members may suffer from. You can do this yourself or you can hire a professional duct cleaner to do the cleaning.
Dust and vacuum: Thoroughly dust all surfaces in your home, including windowsills, window treatments, baseboards, ceilings, and ceiling fans. Don't forget to dust off any household plants and their leaves, which collect a buildup of dust and dirt. Take advantage of your vacuum's brush attachments to allow you to access those hard-to-reach places where dust accumulates.
Clean bedding and blankets: Laundering and airing out bedding is another important step to take, especially for people with allergies and asthma. Sheets should be washed weekly, and blankets and pet bedding should be washed regularly as well.
Open the windows: Opening windows on all available sides of your home will let a breeze blow in to clear out the stagnant air. You can even leave the windows open all night (if your allergies can handle it) to awaken to crisper, fresher-smelling air throughout your home!
Home Services Enterprise can swoop in today to help bring the freshness of spring into your home. To schedule a cleaning, call us today at 301-674-9564 or visit our website: www.homeservicesenterprise.com.