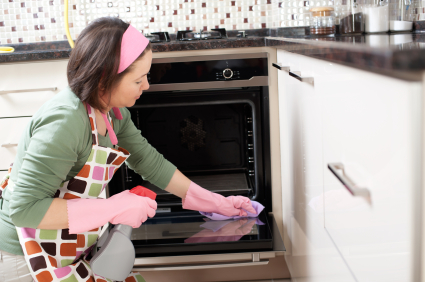 The kitchen is the heart of most homes—it's not just where the nourishment is prepared and served, it's where the family is nurtured, where they come together to share their days and break their daily bread.
But it's also a room that sees a lot of action, and that means it requires extra care and extra effort to attend to all the traffic, all the mess, all the spills and all the drips. It's common sense that the appliances in which we store, cook, and heat our meals should be regularly and properly cleaned and maintained for safe consumption. A hygienic home makes for a healthier family. But in today's busy world of very limited time and never-ending to-do lists, you'll want to clean your kitchen most efficiently and expediently.
Self-Clean Your Oven, Then Spot-Clean as Needed
Let's start with the oven, because a well-maintained oven will be more energy efficient when the heat distributes evenly. And what stands in the way of allowing your oven to use less energy? You guessed it: a build-up of fat and grease, which not only interferes with burners and heating mechanisms, but also poses fire and flame risks. Luckily, modern-day ovens come equipped with self-cleaning capabilities that'll do the lion's share of the work for you, just be sure to completely empty the stove before starting and follow the directions to the letter.
But even smart appliances aren't smart enough to reach every crevice, wipe away every spot, or sweep up every crumb. For those places that automation can't reach—like the crud around hinges and outer frames—you'll have to reach yourself. But there's no need to buy expensive products or expose yourself to unnecessary chemicals: Wipe down surfaces with a "green" mixture of vinegar and water, and use a little baking soda on a sponge to dislodge cooked-on foodstuffs. It's recommended to clean your oven every three to six months.
As for your stove, "deconstruction" is the easiest way to go. Instead of trying to clean your burners in place, remove them (the burner grates for gas stoves and the drip bowls for electric), along with any other removable parts, like the knobs, and soak them in hot soapy water for several hours; then scrub them down right in your sink, where the residue can easily be washed away. Skip the spray-and-wipe route to eliminate all the loose debris on the stovetop—instead, use your vacuum attachments to suck it all up in no time. Another time-saving tip: Once your burners are clean, insert disposable liners under grates or wrap drip bowls in foil to avoid future scouring.
Microwaves Get Messy!
Your microwave probably doesn't go one day without use—between reheating your coffee, the kids making after-school snacks, and melting butter for your grandma's cookie recipe, this appliance is arguably the most often used today in American homes. That's why it needs to be cleaned more often too. Every day, preferably after every use, wipe down the inner walls, top, and bottom while whatever popped, spurted, or overflowed is still warm and loose. Then, once a week, give it a more thorough cleaning. Again, avoid the potentially harmful chemicals that don't need to come into any kind of contact with your edibles: Just heat up a bowl of water with either vinegar or lemon right in the microwave itself to clean, sanitize, and deodorize all in one step. (Search online for more specific directions on this simple hack.) Swipe all surfaces with a clean cloth and you're done!
Refrigerator Rehab
Keeping your fridge in optimal condition doesn't have to be a chore if you stick to some basic guidelines. When it's time to clean, remove all contents first so you have clear access to all internal parts of the fridge. Depending on how messy it is in there, you can either leave components in place or take them out and wash them down in the sink. To keep chemicals away from anything you'd consume, once again all you really need is a solution of vinegar and water to clean the interior and all shelves and drawers. Use some baking soda on an old toothbrush for any stubborn areas of build-up. Then make sure everything's dry before loading your food back in.
Thereafter, keep your fridge tidy and family-friendly by:
Not overcrowding it
Organizing by food type (for example, keep all your condiments together, all your beverages grouped together)
Disposing of spoiled food, rotting fruit, and moldy sauces promptly to avoid potential cross-contamination
Keeping an open box of baking soda at the back of a shelf to neutralize odors
Cleaning up all leaks and spills right when they happen to avoid more and harder labor later
If even these summary steps sound like too much for you to fit into your busy schedule, call in a professional to get your kitchen sparkling for you! Home Services Enterprise would be delighted to be your kitchen cleaner, on either a one-time or ongoing basis. Contact us today to talk about all your cleaning and organizing needs.
Home Services Enterprise  | 301-674-9564  | www.homeservicesenterprise.com